Decided last wednesday night on a spur of the moment camping trip up to burrinjuck. Found a campsite on google, packed up the car thursday morning and drove 3 hours inland. Arrived and set up and since it was still pretty hot thought id just relax for an hour or two before hitting the lake. Launched at around 4pm and said hello to the group of 3 Greek guys who were fishing with what seemed 11 rods from the bank. They all gave me dirty looks and I heard the word "malaka" - im no language wizard but i know what that means...no matter.. I was off and started trolling the bank until i came up to two random bits of timber - the only structure for several hundred metres in either direction. Trolled a big deep diver back and forth around the trees for about twenty mins with no luck so decided to drift and cast at them. At the end of the first cast i felt a gentle tap but I wasnt quite sure if it was a fish or the leader not hitting the first guide. Second cast and just as i was about to lift it out of the water there was a bigger slap that was clearly something with fins. Third cast and halfway through the retrieve i was hit soldily and after a breif fight on the heavy cod gear i was pleased to have a nice 43cm golden in the yak.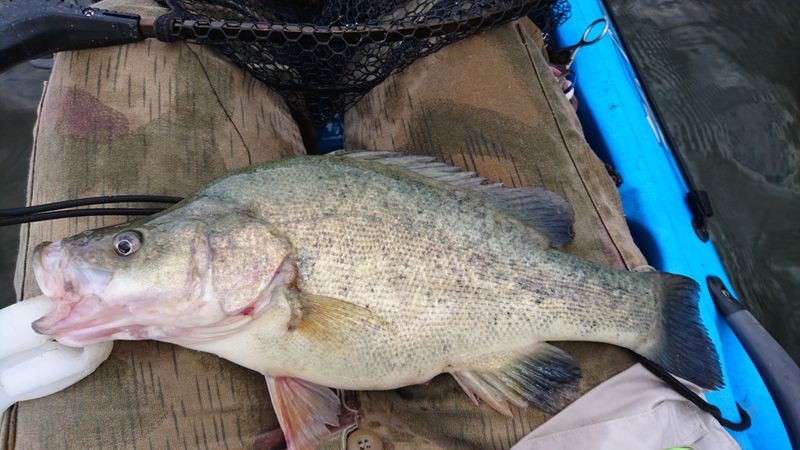 decided to push on and troll the steep banks... everything was nice..not a hint of breeze..then all of a sudden there was a lot of breeze...so i turned around and headed back to camp - wind blowing directly in my face. What should have taken 15-20 mins took closer to an hour and there were times when it felt like i was pedaling in place.
After much struggling i paddled back past the greeks who had a good laugh at my expense..they didnt laugh so much when after coming ashore and asking if theyd gotten and fish and finding out the hadnt i showed them a photo of mine..
I had planned to fish into the night but the wind set inso i busied myself catching carp on corn from the bank, which i gave to the greeks as they were keeping the carp they caught too.
Got up just on sunrise and after a quick feed was on the water again..trolling a smaller lure in the hope for more yellas.. hit the same spot again on the troll for nothing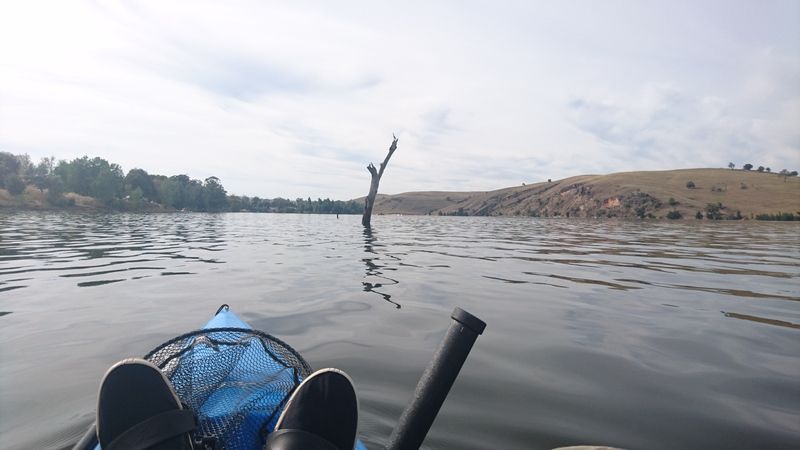 then came back on the drift and got nailed first cast by a nice little yella..as he got to the side of the yak i saw his mate come up alongside, and much to my surprise i netted them both..the hooked fish 36cm and the bigger one 42cm..all rather unexpected..
Three casts later I had another 37cm fish in the yak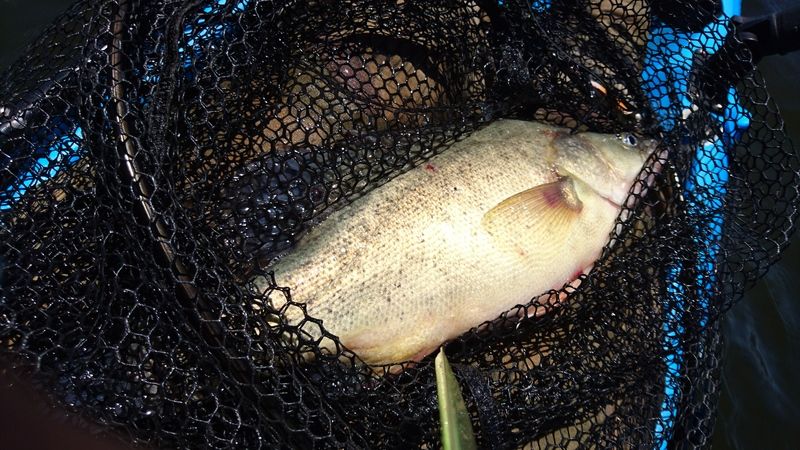 i headed off on the troll along the bank trolling deep divers with no luck for about 3 hours then headed across to some timber on the other side of the lake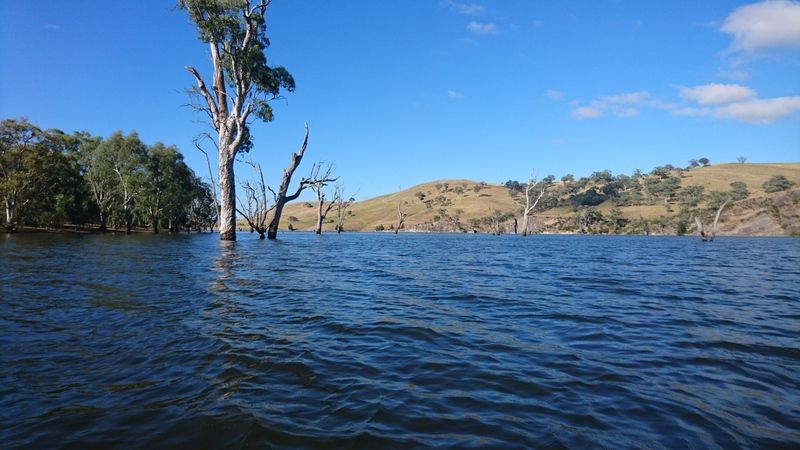 threw a bunch of spinnerbaits and hardbodies at every possible tree with not even a touch. I was a bit bummed out by the amount of carp i saw..sometimes coming right up to the side of the yak. I saw one kind of follow a big swimbait so next time one went past i dropped a rattling lure in front of it..jigged it a hlaf dozen times and the carp turned around and grabbed it.. wtf...
soon had a carp of just over 50cm in the yak..slimy smelly thing. And just to prove it was no fluke 20 mins later i did the exact same thing with a similar sized guy. Decided to head back to camp and have a bit of a sleep and pull a long afternoon/evening session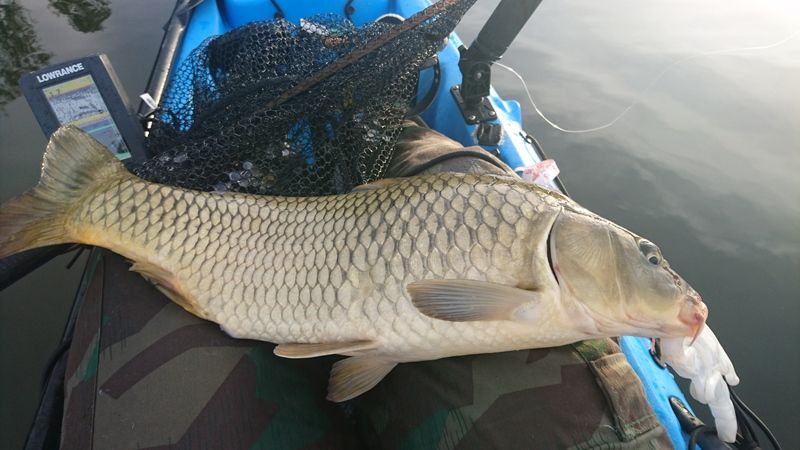 I hit the water again around 4..was going to go earlier but the amount of jetskis/wake boats/ski boats was a bit much so i waited a bit till it died down...headed back to where id been getting the yellas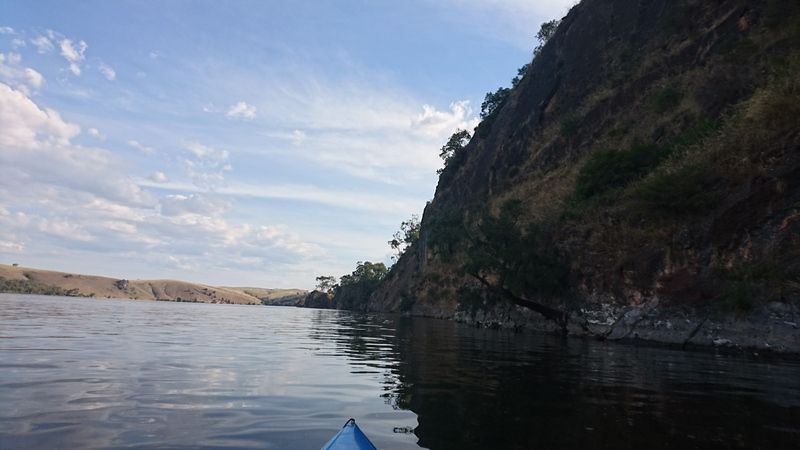 decided to jig the standing timber and got a few follows but no hits until i started slow rolling the lure..had a fish get off at the side of the yak and a few softer hits..so switched to a chatterbait and was rewarded second cast with a 42cm fish that took me into the sunken trees and needed some manouvering to get out out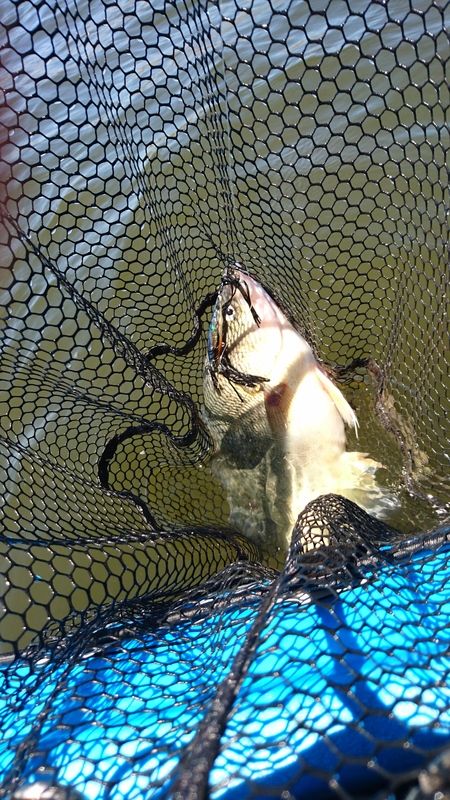 and followed it up two casts later with a fish that might have been its twin
decided to try trolling super deep cod lures along the cliffs for a bit to see if i could find a cod but no luck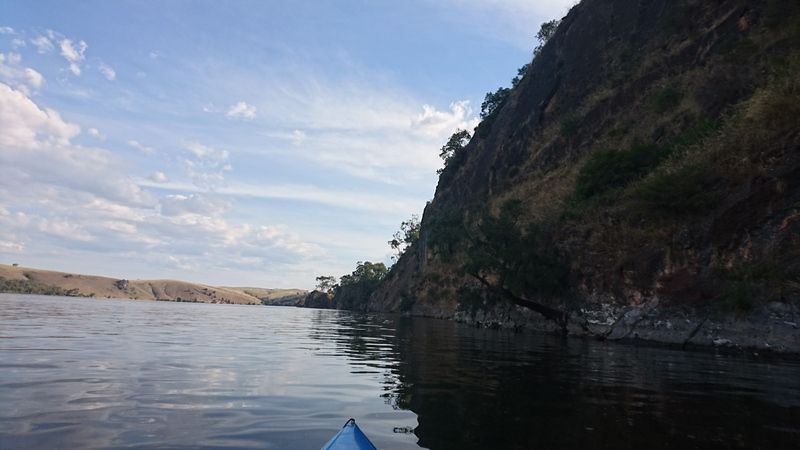 so i headed towards the timber to fish some surface lures as the sun went down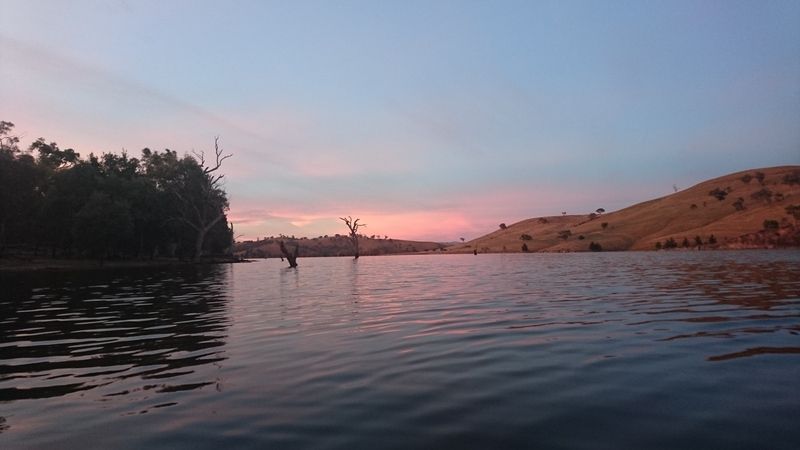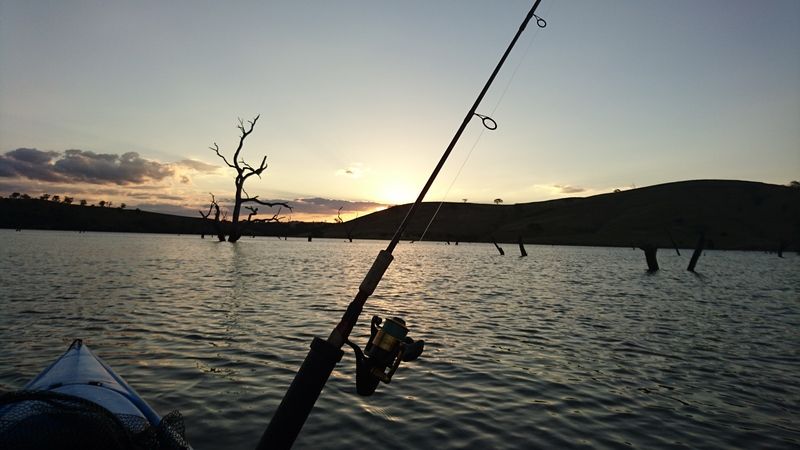 Threw a wake bait about and had a couple of half hearted hits which lifted my spirits..must be cod here afterall.. fished until just after 10pm and trolled back to camp in the dark
Got up at 430 the next morning and decided to head right for the timber on the other side of the dam this time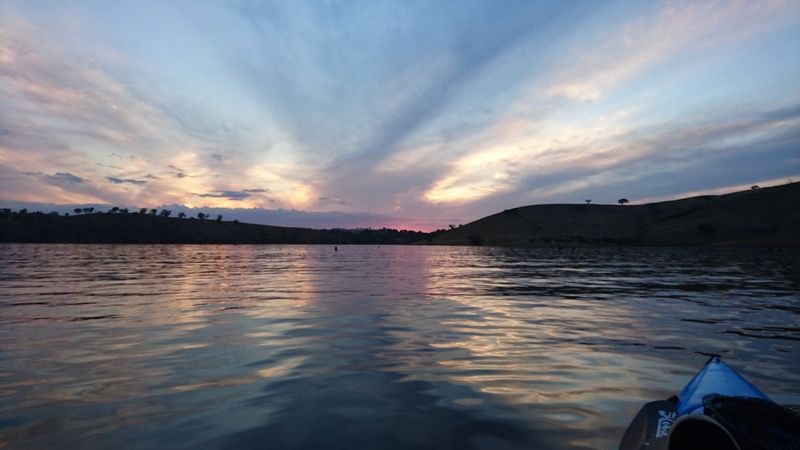 The ski boasts started early with the first ones ripping around at 6:30...not ideal...
fished surface lures until about 8 when i switched to spinnerbaits and hardbodies working every bit of timber i could find..with just one solid bump to show for it..very bummed out since it was getting near time to pull the pin...so i trolled around for a while and then headed back to camp, avoiding all the lunatics as best i could..and once i got back to camp i discovered my quiet little camp site inundated with parked ski boats and people with screaming kids and stereos.. oh well... good thing im going..
Get back to the car to discover that id been parked in - not just that but parked in so close i could barely open my tailgate. I could feel the angry vein in my forehead start to pulse... it got worse when i looked around and saw tables and chairs and eskies set up in front of my car door and within 2 feet OF MY TENT.. at this point some pastel shorted bogan walked up with an annoyed look and says "did i park you in"..to which my reply (before i could stop myself) was "yes....you f*****g did, you knob"... and I walked back down to the bank.... stopped there and thought for a moment...dont need to be back for another day...got food..got water...know where the cod are now... sod it im going to stay another night. .. So i went back to my tent..pulled up a chair and sat and had something to eat... I ate while i watched one group of idiots tow skiers very close to the bank before stopping..with the skiiers letting go and gliding in to the bank .. a couple of times i watched this thinking someones going to get hurt... sure enough a little later mr bogan is towing is girlfriend around on a kneeboard.. I lookup and think...hes coming in way quicker this time..this is going to be close..then heard people next to me start to shout ... "shes not gonna make it" "oh shit" and one woman actually screamed... sure enough kneeboard lady slammed into the bank with a sound a bit like slapping a ham at pretty solid speed...accompanied by moaning. I honestly thought she was dying..but it turns out she ended up with the worst case of gravel rash id seen, plus other cuts and bruises.. oh well.. after that I took a nap...
got up and decided to troll past the yella spot on the way to the timber again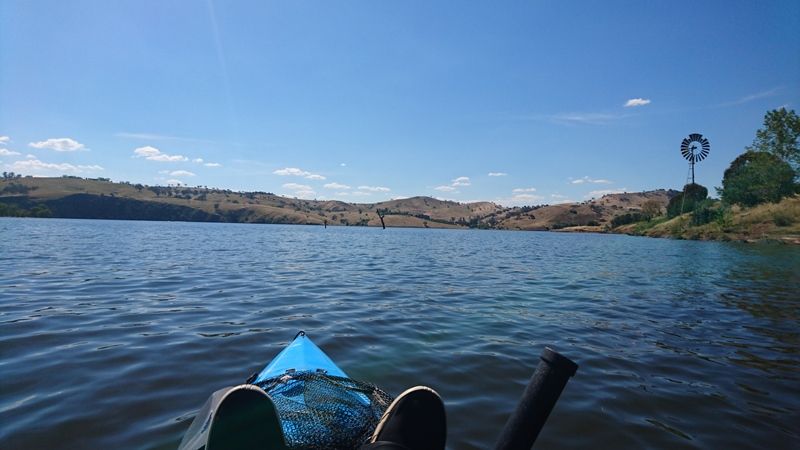 Had only just clicked the reel into gear when my lure got smashed ...had hopes of a big yella or small cod but instead...a dirty carp
kept trolling and something on the bank caught my eye..A screaming peewee was hanging upside down caught up in fishing line on the bottom of a windmill. I couldnt find a good place to land but in the end decided id just have to risk it and put in along some rocks..dragged the yak up the bank enough to not get washed away by ski boat wakes, Heard a bit of a crak as i did but ignored it...couldnt leave that bird in the heat handing upside down.. ran up and cut it free and wathcing it flap away.. 1 karma point. ran back to the yak and got back in the water...turned to face some swell from a wake boat and discovered that my rudder didnt work..looked behind me to see that it was hanging off the yak only held by its lines... managed to get to a better spot to beach and discovered the rudder pin had shorn off both at the top and bottom. Fortunately when i bought the yak years ago thered been a spare pin in the rear hatch which id left there...and after a tense few minutes bashing out the old one i was back in the game...
trolled again up until it got dark, heading off to wear i thought the cod would be in the timber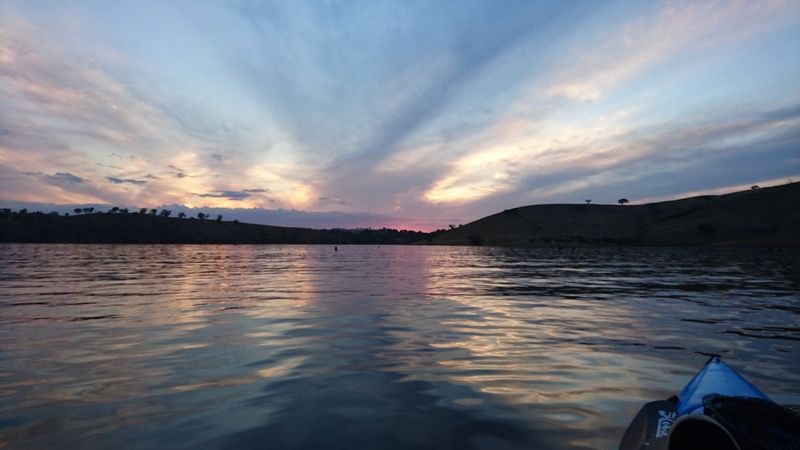 had one massive hit and lots of small ones where the fish seemed to almost push the topwater out of the way but no hookups..but was quite enjoying watching things come down to the waters edge for a drink - roos, a wombat, various birds... soon i picked up an awful smell then I saw something strange in the dying light... at first i thought it was a dingo..until i saw the tail.. long and thin and kangaroo like. I watched this thing lope along, then sit and watch me, then trott away....I managed to get a photo but you really cant see anything..and my video camera died just as i was watching it (too far away to see it anyway). Now ive seen hundreds of dingos, dogs, and foxes..and im positive it wasnt any of these.. youre going to think im crazy but the thing that best approximated it in shape and looks to an animal thats been gone from Mainland Australia for over 1000 years...make of this what you will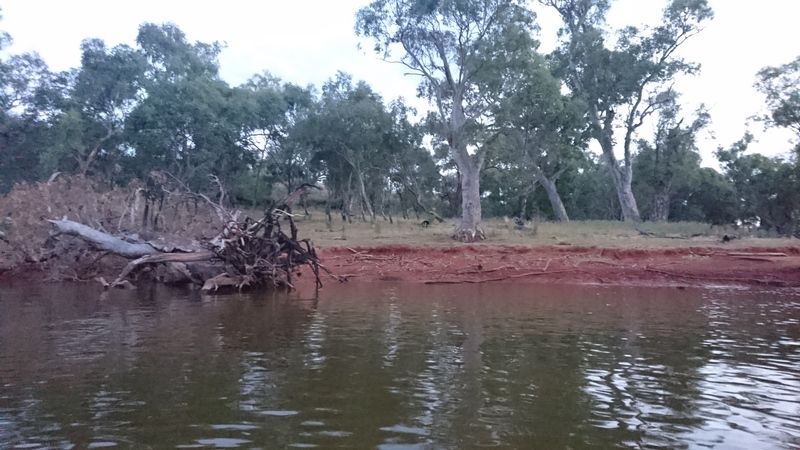 fished well into the night with only a few missed strikes..getting back to camp at 11:30pm. the good news was the boats and others had all gone..so i took a power nap and was up again at 4 and straight back to the timber for what was really my last throw of the dice...immediately things looked better.. with loud surface boofs all about and a couple of small hits.... Then I cast my jackall pompadour out towards some timber and watched as a fish come from the left , swimming a good 15 feet pushing a bow wave ahead of it come over and smash my lure..and hook up.. yes ! COD!...NO!.. CARP !@*#$! .. a big fat 57cm carp had smashed my lure .. unbelivable.... not happy..
after this i headed over to a stand of trees flicked a small lure out hoping for a yella or maybe even a redfin... however i ended up with 3 carp in 15 minutes... decided to throw a surface lure and it got smacked all the way back to the yak, until it finally hooked up and i ended up with a feisty redfin..
at that point i pulled up stumps and trolled back to camp before packing up and heading home
quite an eventful few days