I must apologise for my lack on input in KFDU the last few weeks - I've been really busy with a lot of things, including preparation of this trip. I came back pretty exhausted (still un-naturally tired all the time a week later, which has me worried I might have caught something up there) but have finally had time to start to write it up. Wilderness Island, on the eastern side of Exmouth gulf in Western Australia was the most remote place I have ever fished, and also had the best fishing I have ever experienced. Though I didn't catch any trophy fish, I certainly hooked onto some and had a fishing trip of a lifetime. I understand if you guys don't read all of this, it's pretty long, plus Brett will have his story too…this is just the first day. The subsequent days write ups will be shorter I promise and I will add them to this post as I write them up.
Day 0 of 5
There were four of us yak fishing, Brett Ozzane (Shufoy), Trevor (elmo) (who drove all the way from QLD to join the trip), Scotty Coghlan (Western Angler editor) and myself – three of us in yellow Hobie Adventures. It became confusing throughout the trip as Brett, Trevor and I all had the exact same kayak and colour, the same hats and even the same colour shirts sometimes so we often didn't know who we were looking at from a distance. Scotty distinguished himself in a Revo.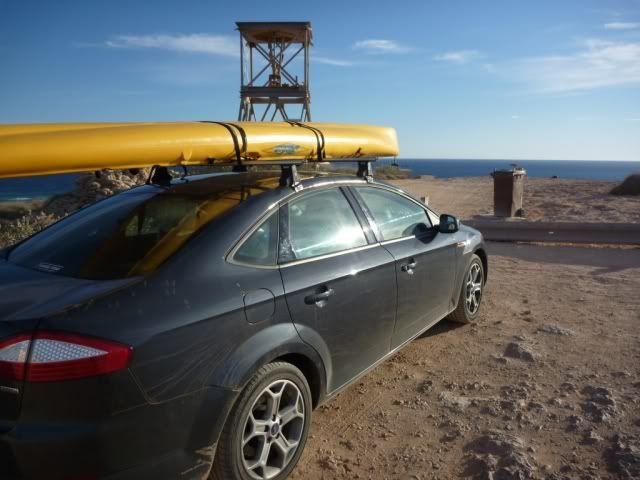 Finally at exmouth
I drove the 1300km from Perth to Exmouth and met the guys at the Lighthouse Caravan Park, where Col, Ash, Mike and Brett had already spent a week soaking up the sunshine and catching fish from the yaks. I have a diesel car, and about 2/3 of the way from Perth I stopped at a remote roadhouse to get fuel, only to find that the anti siphon device in the car had jammed and I couldn't get the fuel nozzle in. Bugger! 150km from the nearest small town and I couldn't get fuel! 30 minutes later I had destroyed the fuel cap out of desperation with a large screwdriver and created a 5mm diameter hole, through which I dribbled 60 litres of diesel over the next hour. Another 20 litres of diesel went in my hair, clothes and on the ground. Ford have some explaining and fixing to do, but at least I made it to Exmouth (albeit stinking of diesel). Thanks to the operators of Woomeral Roadhouse who were really helpful in getting me moving again.
Before meeting the guys at Exmouth I popped into Learmoth Jetty (45 minutes South of Exmouth) where there were heaps of bait balls, and I almost immediately caught a smallish Giant Trevally (or was it a giant Smallish Trevally?). Sign of things to come I hoped! After meeting the guys, we headed down to the pub, where we met the Wilderness Island owner, Jim, fishing guides Shane and Harry, and Scotty and Darryl from Wangler. After dinner I enjoyed the pub for 15 minutes before falling asleep in the back of Bretts car while the others got up to mischief. I woke up several hours later with some tipsy guys tickling my feet.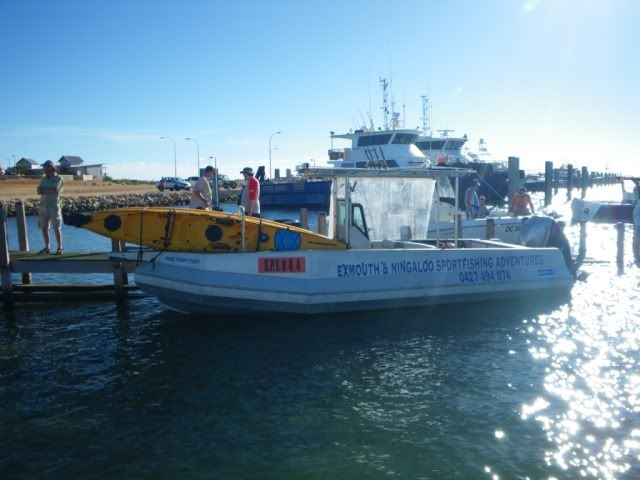 Taking the kayaks to the island
After sleeping at simple roadhouse room and on the balcony of the guys cabin with the mozzies, we all checked into the Novatel Hotel on the Saturday afternoon to be greeted with absolute luxury. The kayaks were loaded up onto Shane's boat and I think we surprised them with how much ancillary gear you need to take (or don't need to take) with the yaks. Next morning we headed to the ramp and before you knew we were on our 1 hour boat trip across the Gulf before a spec of land appeared – Wilderness Island!
Now, when you stand on the shore at Exmouth and look across the Gulf, all you see is open sea and can only imagine that there is land on the other side. However, looking back from Wilderness Island you can clearly see Cape Range (behind Exmouth), the Submarine antenna's and the lights of Exmouth at night time. This is because the area around the Island is really flat, consisting of low lying islands, sand flats and mangrove swamps and creeks with miles of salt flats behind these.
We headed up one of these mangrove creeks, and I was amazed at the fish life I could already see just standing on the boat. Bream were everywhere, Long Tom, I even saw the concave snout of a 50-60cm barramundi (which are quite rare up there but occasionally captured). On mooring the boat, dozens of bream, many around 35cm surrounded the boat and could be seen everywhere in the crystal clear water of the run in tide. My casting arm started twitching…my Polaroid sunnies were doing their job too well…but first it was time to unpack.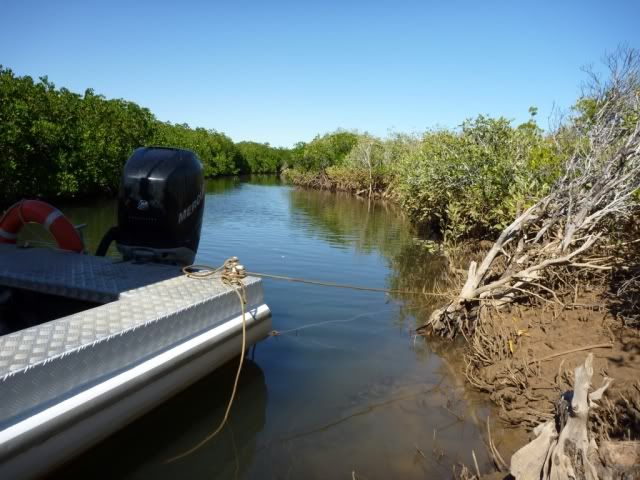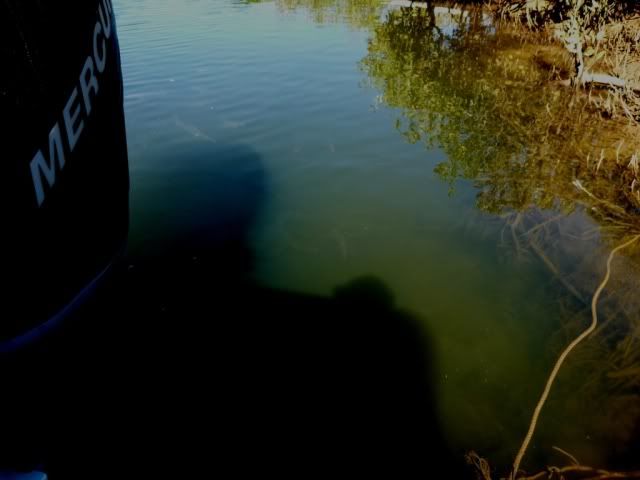 The creek we arrived in – and the bream
The camp itself was basic but comfortable, 2 beds to a room, with a room consisting of a cool hut (gets a lot of breeze as the sides are made from insect proof shade cloth). The main room had a basic kitchen in which Darryl and Jim (and later Brett) knocked up some of the best seafood meals I have ever tasted. The balcony featured a table with attached benches which you had to be careful on. If two people sat on one side the whole thing would topple over, which made for some funny scenes and more than one spilt beer when someone stood up on the other side of the table. Along with the people I have already mentioned, a French backpacking couple were helping out and trying their hardest to decipher our Aussie accents. Power from a generator also allowed us to charge up batteries at night.
It was Sunday afternoon, and it wasn't long before our yaks were set up and we headed off for an afternoon session. I also realized early on that this was a cast and retrieve sort of trip, with the water being around 1.5 metres deep or less in most places that we fished. That said, forward rod holders and the fish finder weren't really necessary and just got in the way, and I only switched the sounder on those rare occasions when I couldn't see the bottom. We headed South 1km to one of Scotty's favourite spots and I was rewarded with a golden trevally of about 40cm, before a barracuda snaffled the lure. At this point I must excuse my lack of fish photos. I avoided using the net as the lure trebles got tangled in it, and as all of our fish were released I was more focused on releasing them unharmed than messing around with photos (though I got a few). Besides, the fishing was so hot I just couldn't spare the time to take too many happy snaps – thanks Trevor for some of the photos displayed here.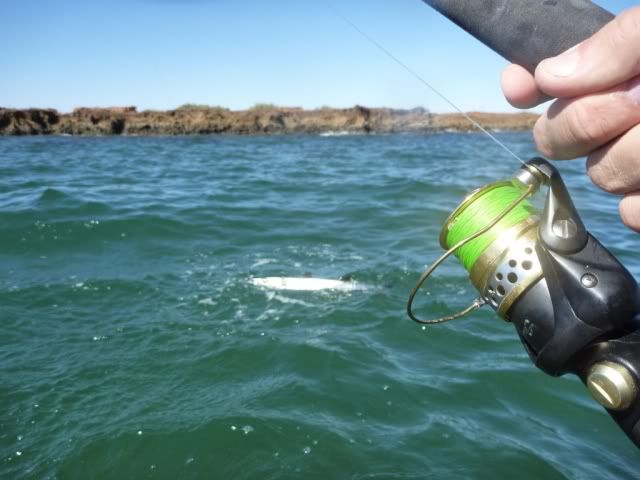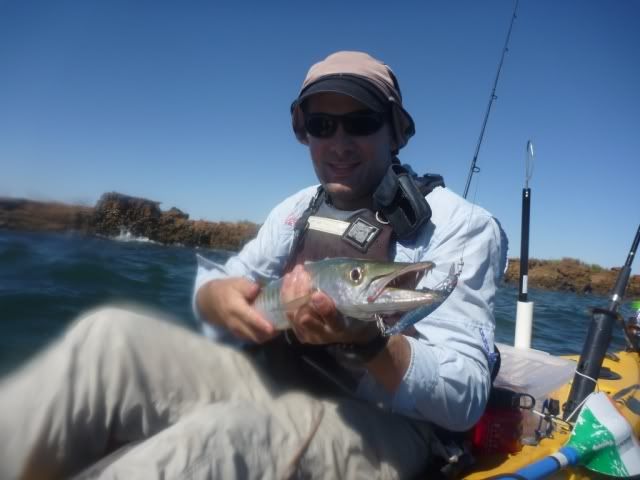 Second fish for the trip
Heading over to Burnside Island, we found Scotty having a heap of fun with something I hadn't expected – whiting on lures. In water ankle deep, the greedy fellas were fighting each other to grab hold of small surface lures and poppers, and looked pretty awkward with the bottom sloping mouths trying to feed on the surface. I really hadn't anticipated this type of fishing but had bought my bream lures as an afterthought, and cast out. First fish was a nice flathead, but the whiting soon followed, and I had plenty of whiting hookups on lures in that session (and poppers later on). Great fun and a first for me.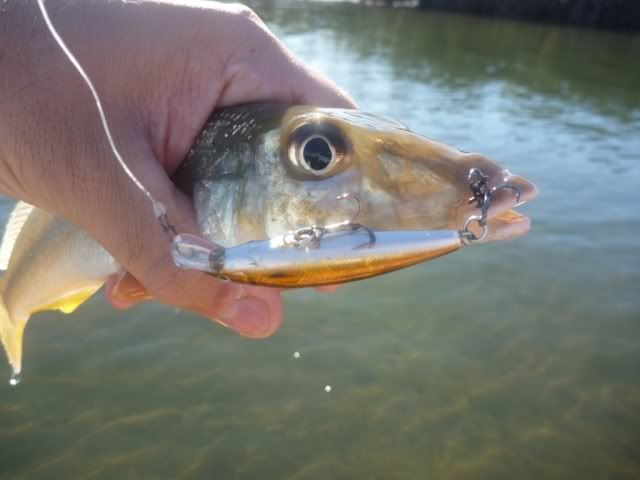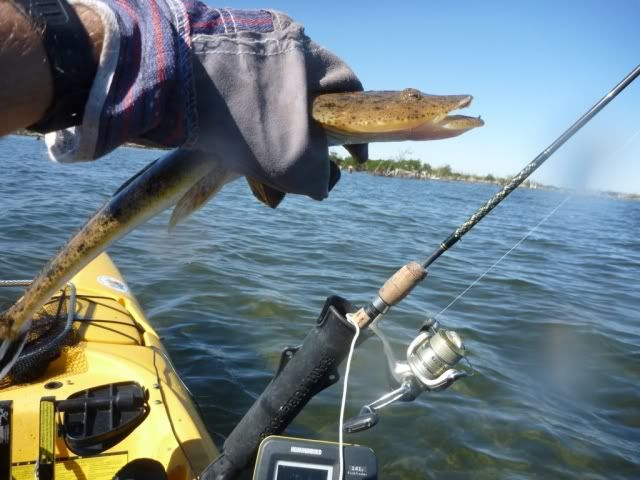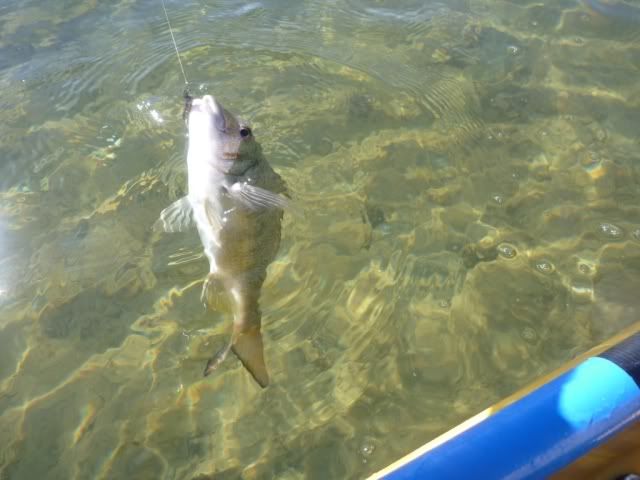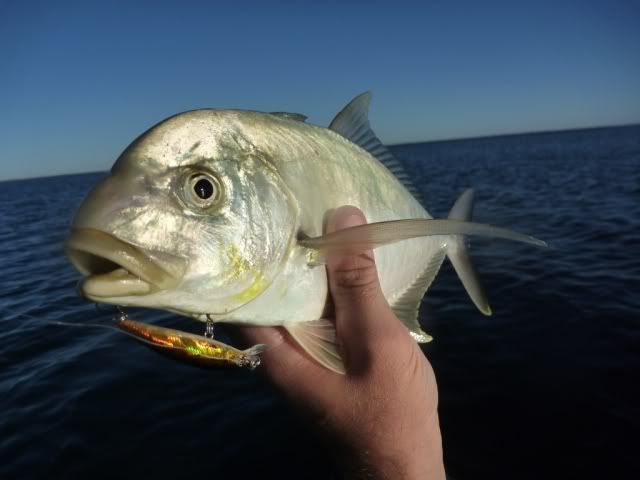 Whiting, flathead, bream and trevally in abundance
Casting into deeper water I was into a good fish that pulled the hooks, but was most likely a GT. Then a forktailed catfish took the lure. Then a nice bream. As the day got later, nearly every cast was being hit, and soon I landed the main culprit – small GT's. These were great fun on light gear and took everything I could throw at them in the 30cm deep water – minnows, soft plastics, poppers, you name it. One was putting up a nice fight when a 1.5m lemon shark that had been stalking me grabbed it next to the kayak and ate it (and the lure) in a big shower of head shaking spray. Awesome!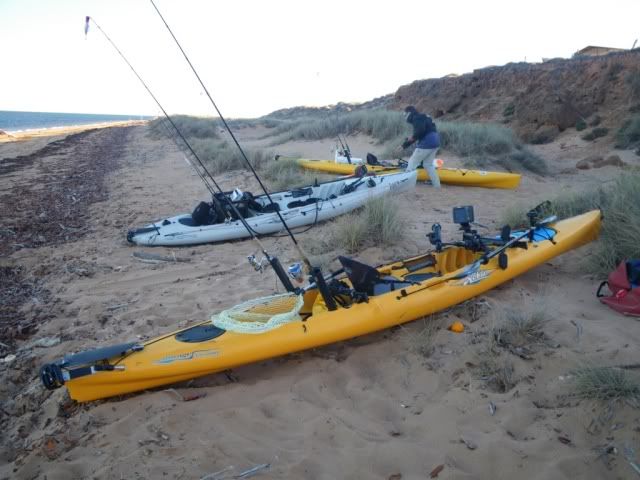 The launch spot just metres from camp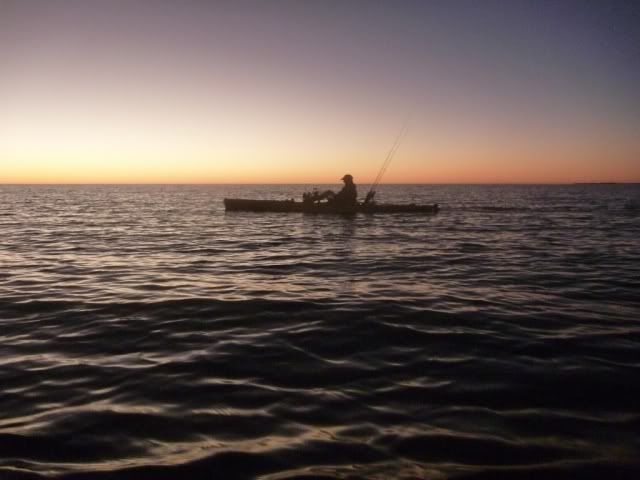 Sunset
One afternoon's fishing on day 0 and I was already down three lures, and had lost count of the number of fish caught. As we pedaled in the fading light back to camp, fish, turtles and small sharks boiling up in our path, I wondered what the coming days would bring. We came back just after the sun had set and climbed up to camp, avoiding the multitude of fist sized hermit crabs that seems to be everywhere.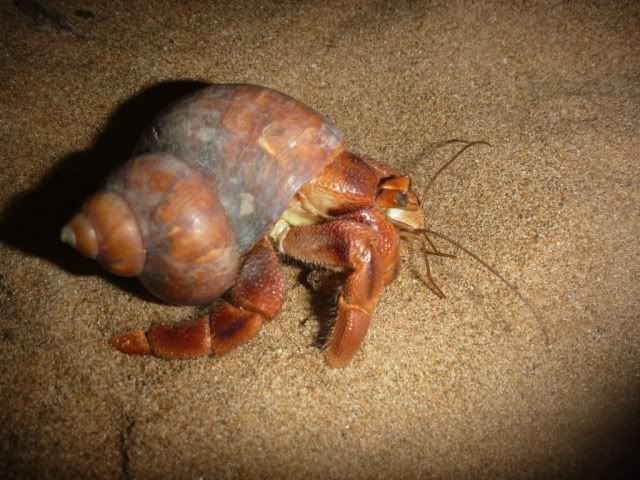 Hermit crab
More to come….