After a 6hr bass donut 2 weekends ago, I'm glad to report that I'm on the scoreboard for this season. Fished a morning session on Saturday from ~0700 - 1330h with club mate Derek. It was Derek's first fishing trip for many months while I've been almost entirely focussed on blackfish over winter.
I had decided not to have an early start because I don't think its necessary early in the season, but mostly because I'm lazy. Upon arrival it was obvious that other fishos had beaten us to the water but not surprising. It was a nice day and not too cold, but the water was cold and murkier than usual at that spot. I had a #3 jigspin with a 1/16oz jighead #2 hook + 2.5" curly tail grub. On my other rod I had clipped on, optimistically perhaps, a Siglett (thanks Dish!). I think Derek started with a #1 jigspin.
It actually wasn't that long before I landed my first fish, a nice 36/37cm FL on the jigspin. Hooked in a shallow bit on the sunny side. Not much fight at all.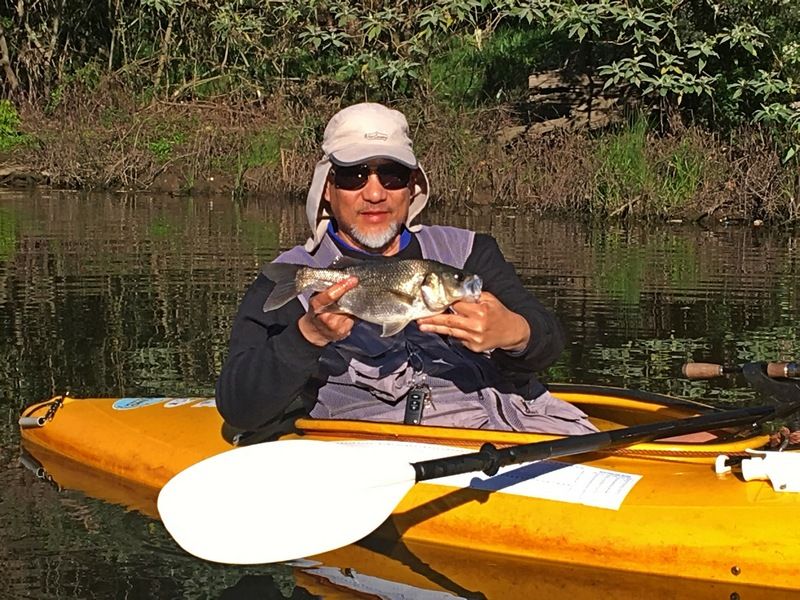 I got another fish in another shallow spot after I had a little hit on the jigspin. I was fairly sure it only pulled the tail of the grub and I immediately changed to the Siglett but switched back after a few casts. Yep! A very fat high-20's came on board after another lacklustre fight.
It was pretty slow really as we met up with 2 other fishos on the way back, fishless. They had already worked the water before Derek and I launched. Another club mate, The Macman joined us about 2.5hrs in and then we ran into Pukka. Joe reported that he had landed 3 on a crank. Nice I thought!
3 or 4 hours in, we were losing interest. Derrek wanted to head back as he hadn't landed a fish so far. However, he had his bit of excitement when we thought he hooked a monster bass. It turned out to be a large eel on a jigspin!! He did very well to get it out from snaggy country and I tried to get the lure back for him with a small pair of pliers. It was screwing itself into a knot sending slime up the leader while I gripped the leader and I was too woosy to get the pliers in to pull the jigspin out. It snapped the line at the knot and was gone. For the next 10mins I was finding gobs of slime on me, my gear and the yak!
When I was chatting to Pukka earlier I noted that he had a weedless plastic on one rod. He said he often used that when the sun got high. I used weedless plastic worms, lizards and other "critters" all the time in the US, but for some reason I hardly ever use them here. I thought I might as well try it around 11am when I realised that I did not take the plastix box out with me. I almost always take it but never use it. The only plastix I had on me were 2" Slider grubs and a few Zman Slimswimz. Luckily, I had a few small worm hooks. So I rigged a Slimswimz on an unweighted worm hook only to find that it just floated on the surface! The Zmans are a very buoyant plastic! I didn't have any bullet weights on me either and I rummaged around and found a pea-sized ball sinker which I put on. I also had some S-Factor so I smeared some on too. What I ended up with is known as a Texas rig with a free running sinker. I used to always "peg" the sinker or bullet weight with a toothpick broken off, but I didn't have that either so it was just left to run freely. I said to Derek that I was going to fish a snag pile about 100m upstream then I'll join him for the paddle back. With zero confidence I started to throw the rig into the nasty snag pile, letting it sink to the bottom then twitching or hopping it out very slowly, letting it hit bottom after every hop. After less than half dozen casts, I thought I felt a tiny nibble. I twitched it again and let it sink again when I noticed the line jiggle and then slowly straighten. I took up the slack, felt weight and struck firmly. After another short fight, a fat high-20's came on board. Huh!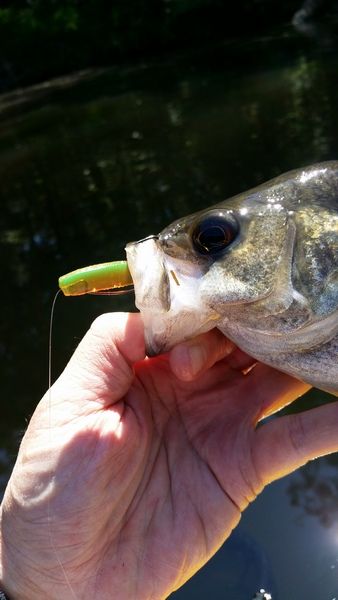 Making our way back, I persisted with the weedless Slimswimz fishing it very slow and particularly targeting the nastiest tangles. The whole stretch had already been fished by Derek and I, the Macman and the other 3 fishos. Before long I had bass no. 4, a fat 34 FL. I was also getting the odd nibble that were not converted.
Right near the end of our stretch, I cast into another nasty pile of roots and underwater timber and got bit straight away. Unfortunately, the lure was still in the back of the pile when it was bit and I was snagged straight away. It was on for a while but I wasn't getting anywhere. I gave it the slack line trick hoping it would swim out, but not this time. I got the lure back with Slimswimz all screwed up but no fish.
That was it. 5 hook-ups for 4 fish landed on a day rife with donuts. It was a bit of a revelation and it showed that the fish were there, but most of them were not inclined to chase a faster moving lure, but happy to eat a nice-smelling lure sitting in their face. Unfortunately, neither Derek nor the Macman got a fish. I did try a crank as well as the Siglett. Might have to use this more often and I have plenty of straight finesse worms that should also work well. It is a slow method though and I probably won't when the fish are more active.